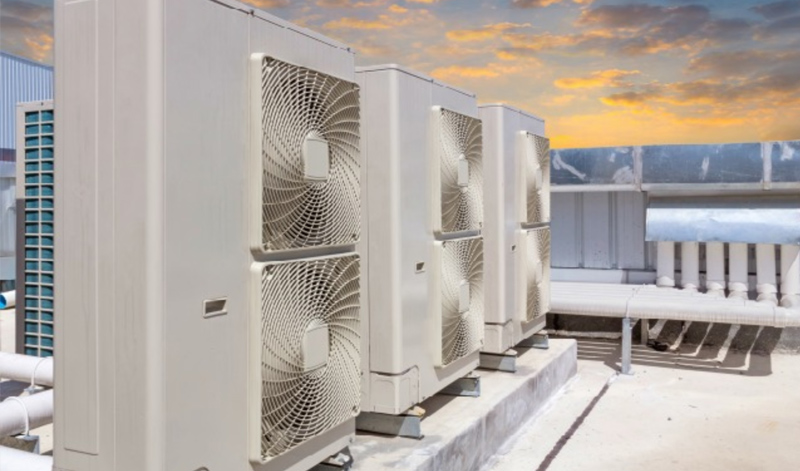 Summer Energy Savings: 3 Cool Technologies
Does the thought of summer cooling costs make you warm under the collar? If you need to upgrade your air conditioning system and you're not sure what to do, the Federal Energy Management Program may have the answer through its list of promising technologies. Here are three innovative cooling technologies that made the cut.
Up on the roof
High-efficiency rooftop units (RTUs) are a good fit for just about any location, energy savings will vary by climate. To increase efficiency, these units incorporate variable-speed controls to minimize fan and compressor energy, while capturing and reusing heat, cold and humidity from building exhaust air.
Not sure if high-efficiency RTUs will work for you? Check out this replacement toolkit from the U.S. Department of Energy, which will help you evaluate a range of economic and non-economic factors for optimizing energy and cost performance.
Smooth operator
For large commercial buildings, magnetic bearing centrifugal chillers equipped with variable frequency drives (VFDs) can reduce chiller energy consumption by 42% compared to a standard unit. How are such savings possible? Magnetic bearings eliminate friction losses and VFDs improve efficiency at partial loads. Maintenance costs are also reduced because magnetic bearings don't require lubrication.
In general, the magnetic bearing chillers have higher operating efficiencies than most conventional units, as well as many alternative centrifugal chillers. However, equipment costs for magnetic bearing chillers can be twice that of a conventional unit of similar capacity.
Pumping up the savings
Geothermal heat pump (GHP) systems are most cost-effective for end-of-life replacements and new construction installations. These systems take advantage of the ground's constant temperature to provide highly efficient heating and cooling.
GHPs use up to 50% less energy than conventional systems, while requiring less maintenance. However, they're expensive to install and can have extremely long payback periods. To improve operational efficiency, variable-speed pumps and outdoor air ventilation control may be required.
A hybrid geothermal system was installed at Langley Research Center's new 138,000-square-foot, multi-use facility. The system includes a 60-ton supplementary fluid cooler to help meet summer cooling demand. Combined with other energy saving features, the geothermal system is helping to save $3.6 million a year in operating and maintenance costs.
Take it to the next level
By upgrading to one of these innovative cooling systems and taking measures to improve building energy efficiency, you can significantly reduce your operating costs. Start with an energy audit of your facility. A professional auditor will help you identify the most effective measures for saving energy and improving comfort this summer and all year long.