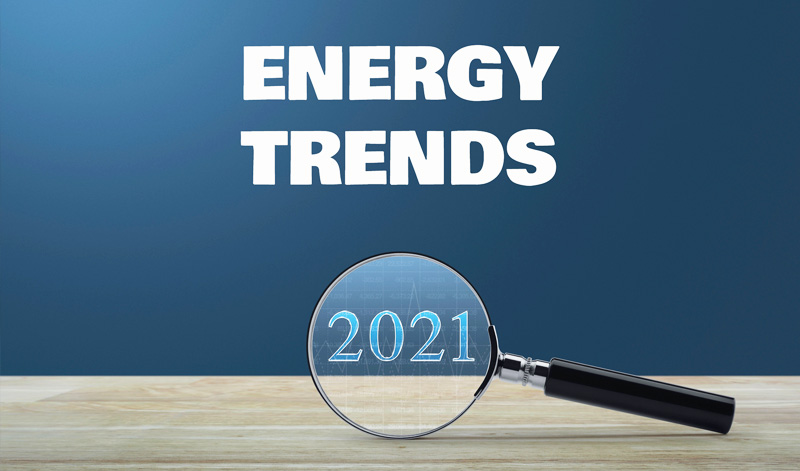 Energy Trends to Watch in 2021
The energy industry and energy-using technologies are constantly changing, and many of those changes can affect your operations and your budget. Here we focus on recent trends in lighting, indoor air quality and energy storage that are sure to impact your facility this year and beyond.
Lighting shifts focus
The energy efficiency of LED lighting technology is reaching a very high level — with efficacies in the range of 200 lumens per watt becoming more common. Because of this, the relationship between light and health is receiving greater attention. Also, the quality of light is replacing energy efficiency as a major point of emphasis.
The DesignLights Consortium's Networked Lighting Controls program is supporting a major shift toward interconnectivity. Lighting is designed to serve multiple functions — from sound deadening, to asset management, to wireless internet connectivity. Connectivity platforms — such as DALI-2 and PoE++ — are enabling software-defined lighting systems that are more flexible and scalable.
Although lighting is critical to operations, many facilities lack the expertise to truly optimize performance. The emergence of lighting-as-a-service — where lighting system installation and maintenance is outsourced — is allowing companies to better focus on their core competencies.
Indoor air quality gets a fresh look
The importance of building indoor air quality on occupant health and productivity is gaining greater attention, and device manufacturers are answering the call.
Ultraviolet (UV) light devices are being used to sanitize and disinfect spaces and mass transit vehicles. Fiber-based air filters are now built with an electrostatic charge and integrated UV lights to achieve better filtration from impingement, charge attraction and UV disinfection.
Plasma-based technologies are being used for indoor air purification. Plasma generators produce a stream of ions in supply ducts that make microscopic particles clump together and fall out of the air. These ions enter the conditioned space to kill bacteria and germs before dissipating.
Battery energy storage charges ahead
The U.S. energy storage market is expected to grow six-fold from 1.2 GW in 2020 to nearly 7 GW in 2025, according to market research firm Wood Mackenzie. Energy companies are using battery energy storage to help with frequency regulation, voltage support and black start — the process of restarting a power station or a part of the grid after an outage.
Behind the meter, battery energy storage is helping customers reduce demand charges and improve backup power resiliency. Battery storage can be integrated with solar energy installations, allowing facilities to reduce energy costs and their environmental footprint. Energy storage systems can also help customers save money by enabling time-of-use bill management.
Lithium-ion (Li-On) batteries are becoming more widely used in energy storage applications. That's because of their benefits in higher capacity storage, longer rated life and lower maintenance costs.
Keep your eye out for these and other energy trends and technology innovations, and how they can affect your facility and operations.