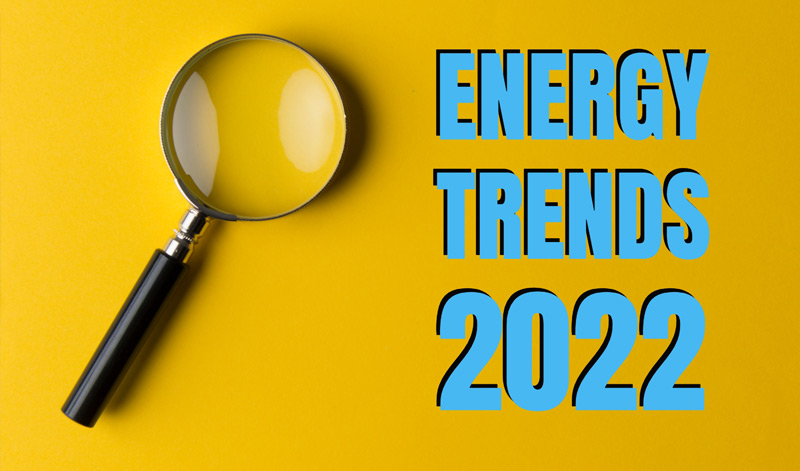 Energy Trends to Look For in 2022
With technology innovations and shifting priorities, the energy industry is always changing. Many of these changes can impact your operations and your energy budget. Here we focus on recent trends in renewable energy, fleet vehicles and computer technology that may affect your facility in the next year and beyond.
Solar power shines
Solar power rebounded in 2021 after sluggish growth in 2020 due to the pandemic, according to statistics released by the Solar Energy Industries Association. Solar accounted for 56% of all new electric generating capacity added in the U.S. in the first half of 2021, a record amount.
Solar power's presence continues to expand, accounting for 56% of all new electric generating capacity added in the U.S. in the first half of 2021, a record amount.
Nationally, residential solar installations showed strong growth in the first of half of 2021 – installations in the second quarter totaled 974 megawatts, the second largest total on record.  APS is on track for a record year for residential rooftop, with 13,695 systems (135.5 MWdc) installed so far this year through October. Commercial solar installations across the U.S. were also up 31% compared to the first half of 2020, while APS saw an 111% increase in commercial systems for the same time period.
Experts expect the solar market to continue to grow. Energy market research firm Wood Mackenzie projects 21% year-over-year growth in 2021, as well as double-digit growth in 2022 and 2023. One factor potentially affecting the long-term growth of solar is the phase down of the federal investment tax credit for solar installations.
Electric fleet vehicles take off
The market for electric vehicles (EVs) is growing, and that growth is expected to continue. A report by Grand View Research valued the North American EV market at nearly $13 billion in 2021. It projected that the market will grow at a compound annual growth rate of 37% through 2028.
Fleet vehicles are expected to be a major contributor to this market growth. Benefits of EVs for fleet owners include reduced emissions, lower maintenance costs and reduced fuel costs. According to the U.S. Department of Energy's Fuel Economy Guide, standard diesel sport utility vehicles (SUVs) have an average annual fuel cost of $2,250 to $2,450, while comparable all-electric models have an annual fuel cost ranging from $600 to $850.
Fleet vehicle manufacturers and suppliers are looking to capitalize on the growing demand for electric vehicles. In 2021, three companies — NextEra Energy Resources, First Student and First Transit — announced plans to work together to electrify tens of thousands of buses in the coming years. Boston's EX Fleet Inc. has developed kits to retrofit existing vehicles with plug-in hybrid technology, allowing fleet managers to realize the benefits of electrification without going fully electric. The company has partnerships with major vehicle manufacturers, such as Ford and GM.
Edge computing moves to the mainstream
Edge computing is a system in which data is processed at or near the source of the data rather than on the cloud or at a remote data center. The global edge computing market is expected to reach $43 billion by 2027, according to a report by Million Insights, for an annual growth rate of 37%. Factors leading to this growth include increased processing needs for Internet-of-Things technologies and artificial intelligence.
U.S. data centers already consume a significant amount of power — about 73 billion kilowatt-hours a year, according to one U.S. Department of Energy estimate. With the potential for the additional of thousands of new data centers at the edge, data center power consumption could rise significantly. Energy-efficient technologies, such as ENERGY STAR®-certified UPS and liquid cooling, can help improve energy performance at the edge and reduce overall power consumption.
Stay up to date. Keep your eye out for these and other energy technology trends now and in the future.