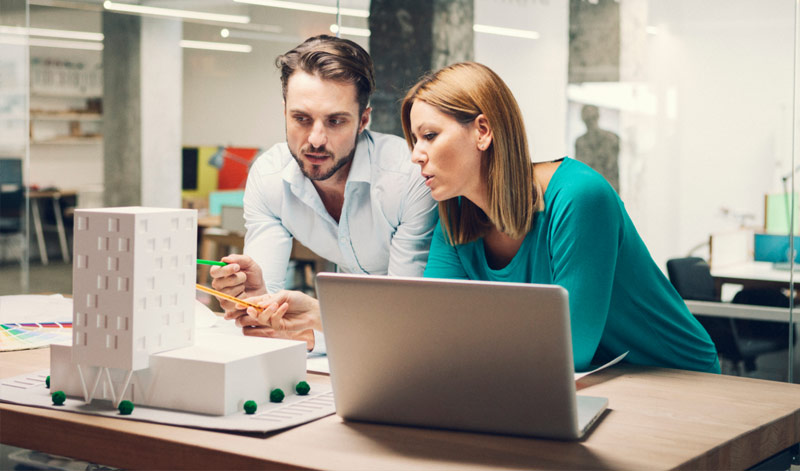 Comparing Energy Modeling Software
There are dozens of energy modeling programs to choose from, all providing a whole building comparison to a baseline. Some programs offer computational fluid dynamics (CFD), daylighting analysis, credit calculations for LEED (Leadership in Energy and Environmental Design) and other features.
Choosing the right program for your project will depend on which of these features you need. With the help of the experts at Heapy Engineering, we compared several of the most popular programs.
eQuest (U.S. Department of Energy [DOE]). This free program is simple, fast, user-friendly and template-based; extensive modeling experience is not required. However, it allows only one model per project and there are no side-by-side comparisons. eQuest v3.65, released in November 2018, added DOE-2.3 simulation capability to include a variable refrigerant flow (VRF) system, a dedicated outdoor air system (DOAS), or energy recovery ventilators in HVAC models.
DesignBuilder (DesignBuilder Software). This program combines energy analysis software with the DOE's EnergyPlus calculation engine. From $1,353(Essentials) to $3,031(Pro) annual subscription per network, this program has template-based advanced 3D drafting, advanced daylighting, hi-fi schematics and details for visual data. It requires formal training and modules are independently priced with no free trials.
HAP (Carrier). At $1,495 per network, this template-based energy analysis and system design program is based on algorithms developed by ASHRAE. Hourly Analysis Program (HAP) requires little modeling experience and includes side-by-side performance and economics evaluation and load simulations. However, it is proprietary and has no support for thermal storage. Also, it is limited to Carrier systems.
Trace 700 (Trane). At $4,000 per network, this program compares up to four alternatives for a single project and includes life-cycle cost and payback, weather profiles for 500 locations, as well as ASHRAE 90.1 analysis and sizing of mechanical systems. Users can now import a model from Autodesk's Revit (or another BIM program) to make energy modeling of a building design much easier. However, the program requires formal training and only includes one HVAC system per zone. Trane recently re-architected TRACE, incorporating DOE's whole-building energy modeling engine EnergyPlus, and is calling it TRACE 3D Plus for improved visualization.
Features and costs vary, so do your homework before selecting a program. If a program is frequently updated, results may differ for each version. Other programs on the market include EnergyPro from Elite Software, OpenBuildings Energy Simulator from Bentley Systems and IES Virtual Environment (IESVE).
To find out more about these programs, visit the online forum Energy-Models.com.