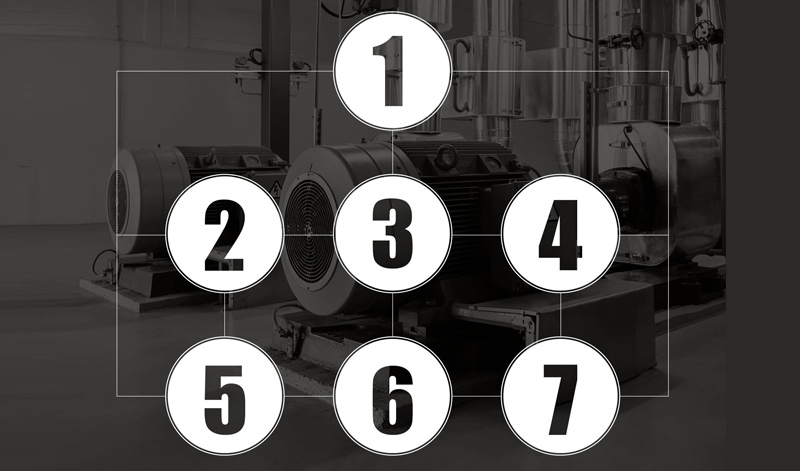 7 Steps to Improving Motor Performance
Motors are widely used in commercial and industrial facility, and they account for more than half of the electricity used nationwide. The U.S. Department of Energy (DOE) has identified seven motor performance improvement opportunities that address both component and system issues.
1. Address motor and drive system operating conditions
Screen all motors to identify those that are essential and consume the most energy.
Identify motor size and annual operating hours.
Determine each motor's load-duty cycle — the percentage of time that a motor operates at a given load.
2. Establish a motor management program
Institute repair/replace and purchasing policies.
Establish a motor and parts inventory.
Track motor life.
Implement a schedule for required maintenance.
3. Provide basic maintenance
Preventive maintenance — inspection, insulation, resistance, balance and alignment
Predictive maintenance — vibration, lubricant, thermography and electrical signature
4. Select the right motor
Match motor type to the application using the following characteristics:
Horsepower and speed
Torque classification
Duty cycle
Efficiency
Voltage
Enclosure type
5. Use variable frequency drives
Identify torque (varying versus constant)
Consider speed variation characteristics
Choose between electrical and mechanical type
Avoid inappropriate uses
6. Address in-plant electrical distribution and power quality issues
Overvoltage and undervoltage
Power interruptions
Voltage unbalance
Transients
Harmonics
Low power factor
Electromagnetic interference (EMI)
7. Evaluate motor repair service centers
Use the DOE's Service Center Evaluation Guide to determine a service center's ability to perform quality work based on the following elements:
Vendor market niche
Tools and facilities available
Repair materials used
Staff experience and training
Record keeping system
See the DOE sourcebook Improving Motor and Drive System Performance for detailed guidelines and practices for improving system operating efficiency and reliability.