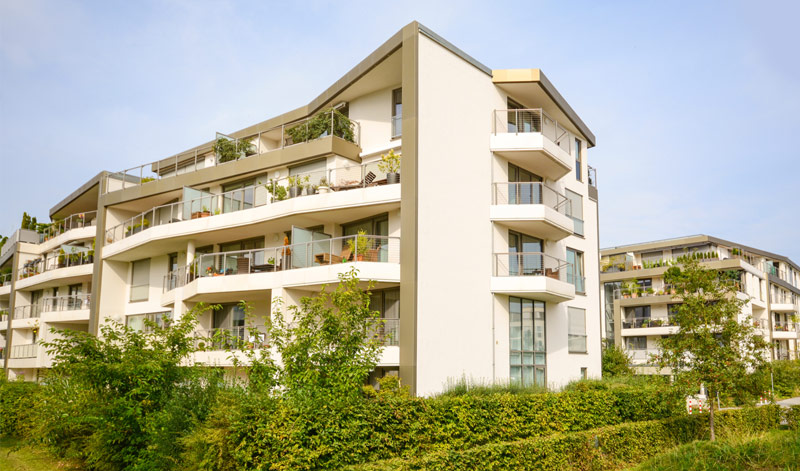 Multifamily Properties: Sustainability Adds Value
Multifamily buildings make up about 26% of the nation's housing, and that number is growing. In a competitive market, you're always looking for an edge. Energy efficiency upgrades and green certification will not only reduce your operating costs, but they'll also help make your properties stand out from the crowd.
Green buildings and property value
Green building certifications, such as ENERGY STAR® and LEED (Leadership in Energy and Environmental Design), are a great way to advertise your commitment to energy efficiency and the environment. A growing body of research suggests they may also help increase the value of your property.
A study by Property and Portfolio Research found LEED-certified apartment buildings command a 24% rent premium. In fact, LEED certification was second only to location in features important to apartment renters, beating out such amenities as a fitness center, clothes washer and granite countertops.
Research published in the Journal of Real Estate Finance and Economics found a 9% rental premium associated with LEED apartments. The sample included 97 LEED and 193 traditionally constructed apartment properties. Together, the properties included more than 57,000 units.
Market research firm J Turner Research polled more than 27,000 multifamily residents nationwide about their lifestyle preferences. Green features in apartment buildings, such as energy-efficient appliances and recycling, ranked high in terms of importance according to respondents.
Energy efficiency upgrades
The following upgrades in apartments and throughout the facility will make properties more attractive and affordable:
Wi-Fi thermostats in apartments and common areas save on space conditioning costs by automatically adjusting room temperatures based on occupancy schedules. They add extra convenience by providing remote control.
ENERGY STAR appliances use less energy than standard units. Install ENERGY STAR-certified appliances in apartments and ENERGY STAR clothes washers and dryers in common laundry areas.
Low-flow fixtures, such as showerheads and faucet aerators, installed in apartments can conserve water and reduce the amount of energy needed for water heating.
Tankless water heaters that are ENERGY STAR-certified heat water only when it's needed. They save on energy use while providing a continuous flow of hot water.
LED lights use at least 75% less energy than traditional incandescent bulbs and last much longer. LEDs are also dimmable and start instantly, providing additional savings through controls.
For more information about green building certification, see the U.S. Green Building Council and ENERGY STAR for existing multifamily housing.